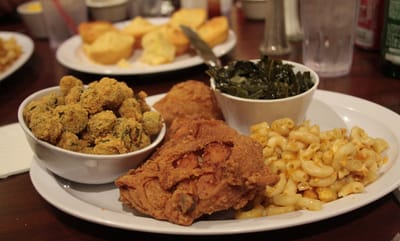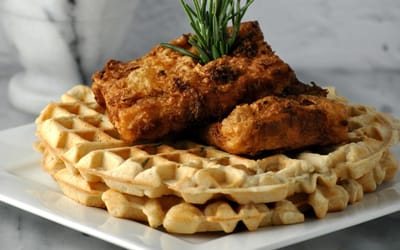 According to the African American Registry, soul food is
"the style of cooking [that] originated during American slavery. African slaves were given only the "leftover" and "undesirable" cuts of meat from their masters (while the white slave owners got the meatiest cuts of ham, roasts, etc.). We also had only vegetables grown for ourselves. After slavery, many, being poor, could afford only off-cuts of meat, along with offal. Farming, hunting and fishing provided fresh vegetables, fish and wild game, such as possum, rabbit, squirrel and sometimes waterfowl. The intersectionality of African food preparations preserved, class status, laws that prevented equal access and innovative survival prevailed. Africans living in America at the time (and since) more than made do with the food choices we had to work with."
Source:
Soul Food - A Brief History
We must change the definition of soul food from one ladened with butter, fat back, lard, hog intestines and other high-blood pressure, diabetes causing unhealthy animal proteins and revert back to the diets of our African ancestors. Adrian Miller, in his book, "
Soul Food: The Surprising Story of an American Cuisine, One Plate at a Time,
" discusses how a diet rich in plant agriculture transitioned to what we have today, one poisoned with animal protein. In the black community, animal based diets are responsible for a myriad of chronic health conditons and an average life expectancy significantly less than that of non-black populations. Per the The Henry J. Kaiser Family Foundation, as of 2009, the racial and ethnic breakdown of life expectancy is
Asian-American live on average 86.5 years, Latinos average 82.8 years, Whites average 78.9 years, Native Americans average 76.9 years, and African-Americans average 74.6 years.
Admittedly, factors other than diet affect these metrics, but when you consider the incidence rates of chronic diseases by race and ethnicity, African Americans lead the pack.
African Americans are first in chronic disease incidence and last in life expectancy.
This relationship can be reversed by a whole food, plant-based diet.
Source:
Chronic Diseases by Race and Ethnicity
The future of soul food must be whole food and plant-based. Veganized soul food recipes are abundantly available on the internet, especially YouTube. There are now many books are on the market that show how to veganize traditional soul food recipes. However, beware of the amount of oil, of any kind, and processed sugar these recipes call for. The top dish pictured is a traditional plate of fried chicken, collard greens seasoned with ham hocks, macaroni and cheese made with eggs and butter, and okra fried in corn meal and animal fat. This dish is easily veganized by substituting tofu oven-encrusted in corn meal, cauliflower mash, collard greens cooked in onions and Indian spices, and grilled okra.
The second dish is a veganized version of the traditional southern Chicken & Waffles. This recipe comes from One Green Planet and it is 100% plant based. It is the perfect Sunday Brunch delicacy!!!
Recipe:
Vegan Chicken & Waffles
No More Animal Protein means a Longer Life Expectancy for African Americans.